Terrie Dollard
Broker Associate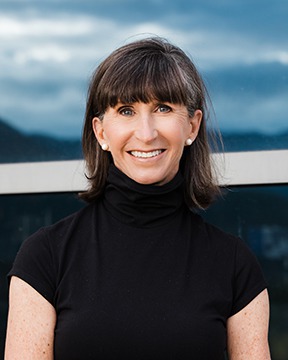 Terrie Dollard is a proud Colorado native who loves helping people find their perfect Telluride property. A mountain resident nearly all her life, Terrie brings decades of local knowledge and expertise, met by a proven background in customer care to help you buy and sell in the San Juan Mountains. Her motto is "listen and learn," coupled with a desire to exceed expectations at every turn.
Prior to real estate, Terrie was an American Airlines international flight attendant for 26 years and uses the same personalized, hands-on approach to provide superior client experiences in real estate. This has led to countless repeat and referral clients over the years, while working closely with her husband and business partner, Mark Dollard, a well-known Telluride expert.
Together, they deliver creative ideas and strong negotiation skills. However to Terrie, her job is never done. "I am there for my clients every step of the way, including after the closing," she says. "I am my client's advocate and make sure they know I am here for them 110 percent. Communicate, communicate, communicate is my mantra. I want them to settle-in with as much ease as possible and know I will always be here for them."
A Certified Luxury Specialist and Silver Certified Concierge Auction Specialist, Terrie can assist in all facets of Telluride real estate, including Mountain Village Ski Homes, Town of Telluride Condos, Wilson Mesa Ranch homes, vacant land holdings and more. From professional staging to strategic marketing to leveraging every resource available in the Sotheby's International Realty brand network, Terrie ensures her clients receive the highest level of service, resources, and support to achieve their goals.
In her spare time, you can find Terrie hiking, trail running, volunteering, or tending to her xeric landscape (she is a master gardener), but astronomy and world travel are favorites too.
She and husband Mark are members of the Telluride Foundation, and Terrie volunteers on a regular basis for Adopt-a-Trail, Adopt-a-Highway, and Senior Lunch. She also serves as a volunteer DJ for KOTO and works the Summit Aid Station for the Imogene Pass Run every year.
If you are looking for a dedicated Telluride real estate agent who is dialed in to what's happing in the community, contact Terrie. She would be honored to assist with any of your homebuying or selling needs.